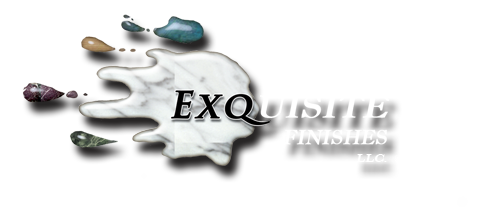 Exquisite Finishes
1009 Hartt Road, Erie, PA
16505
(814) 838-2281
Services
Residential and Commercial
Painting- Interior and Exterior
Refinish Kitchen Cabinets
Wallpapering
Faux Finishes
Marbleizing
Trump L'Oeil
Wood Graining
Venetian Plaster
New Construction
Remodel
Restoration
Decorative Concrete
Concrete Overlay
Water Features
Exquisite Finishes, LLC
Exquisite Finishes, LLC is a locally owned painting company based in Erie PA. For over 25 years, residential and commercial customers in Erie and the surrounding tri-state area have hired us for all their painting needs. If quality workmanship and exceptional customer service are important to you, you've come to the right place.
At Exquisite Finishes, LLC we offer a full range of interior painting and wallpapering services at affordable prices. Everything from single color applications to customized finishes that bring the added elegance to any space.
On the forefront of today's modern designs, Exquisite Finishes, LLC is recognized for creating beautiful surface designs that capture the ambiance and essence of any room. Designed to inspire you visually, we provide extraordinary faux finishes, all of which are custom tinted and hand applied. Everything is a custom one-of-a kind design.
faux finishes
Our faux finishes and decorative paint effects can range from simple wall glazing techniques to complex multi-layer textural effects. Exquisite Finishes, LLC provides every aspect of decorative painting imaginable including; marbleizing, textured finishes, unique patterned effects, Venetian plasters, Italian stuccos, gilding and gold leafing, patina finishes, antiquing and distressed finishes, wood graining, Old World Fresco finishes, shimmering metallic effects, modellos and stencil designs and more.

Some of the benefits to faux finishing include the ability to make a major change to your home's style at a low cost and to create a design that is special and unique to your home. Because no two faux finishes come out the same, whatever it is you have on your walls will be uniquely yours!